CFMoto's line of UForce utility vehicles have begun to explode in popularity in recent years, with these once lesser-known models now becoming legit contenders across the powersports industry.
CFMoto ATV reviews show their line of CForces are no slouch, either.
The biggest and most powerful of CFMoto's utility vehicles is the UForce 1000, which ranks at the top of the list of the best UTVs for the money.
Not only is this model one of the most reasonably priced UTVs you'll find, but it offers similar performance to its bigger-name competition at a much lower cost.
And simply adding a few of the twelve most popular CFMoto UForce 1000 accessories will have this model on the same level with the best in the industry.
This guide will offer an in-depth review of the CFMoto UForce 1000 including:
Big changes for 2023
Specifications
Performance
Key Features
Top Speed
Owner's Main Likes & Dislikes
Cost Compared To Similar Models
After getting a full rundown on the UForce 1000, check out the most helpful CFMoto owner reviews to see how owners view CFMoto's overall quality.
Big Changes For 2023:
The UForce 800 was discontinued for 2023, leaving only the UForce 1000 and UForce 600 standing in the way of utility side-by-sides.
CFMoto has made a couple of noticeable changes to 2023 UForce 1000 models to make it even better.
Clutch Relief
The biggest change for 2023 is that CFMoto has listened to the many concerns from owners about the UForce 1000 clutch problems that tend to cause a jerky ride in this model and addressed this.
The clutching issues are much less noticeable, with many owners claiming that the jerking forward at lower speeds no longer exists and that the throttle response seems normal in most new models.
This should make the need for clutch kits or upgrades less necessary.
It's about dang time, CFMoto!
Seat Belt Relief
Additionally, the annoying seat belt safety feature that restricts 2022 and earlier models to a top speed of 15 mph unless the driver's seat belt was buckled seems to have been eliminated.
While you may not want to push the UForce 1000 to its top speed without your seat belt buckled, this will make it much more convenient while driving slow and working.
Specs, Performance & Key Features
Engine
The UForce 1000 is powered by a 963 cc V-Twin engine with an output of around 79 horsepower.
This machine holds its own with most any of the competition in the 1000cc class, offering loads of low end torque to get you anywhere you want to go.
Sand, mud, rocks, and even the steepest of hills give this model no issues.
And though it's big and powerful, the engine noise is minimal making it easy to have a conversation with your passenger unlike in some other enclosed cab UTVs.
You'll also notice a lack of engine vibration at any speed.
The engine and filters are located directly beneath the dump bed, offering easy access and making maintenance tasks pretty simple.
| | |
| --- | --- |
| Engine Type | Four-Stroke, SOHC, 8 valves |
| Cylinder Arrangement | V-Twin |
| Displacement | 963 cc |
| Max Horsepower | 79 HP @ 7,000 rpm |
| Max Torque | 60 lb.-ft. @ 6,500 rpm |
| Engine Cooling | Liquid-Cooled |
| Bore x Stroke Ratio | 91 x 74 mm |
| Compression Ratio | 10.6:1 |
| Fuel System | Bosch EFI |
| Fuel Capacity | 10.5 Gallons |
| Spark Plug | NGK DCPR8E |
| Engine Oil Type | SAE 15W/40 SG |
Drivetrain
The UForce 1000's engine is mated to a fully automatic CVTech transmission, with drive shafts giving power to the front and rear wheels.
There are both High and Low gears, along with Neutral, Reverse, and Park settings.
The UForce offers two different drive modes – Work Mode and Normal Mode, which can be selected via a switch on the dash.
Normal mode mellows the speed and acceleration, and is meant for more casual driving at slower speeds. Work mode offers the vehicle its full range of speed and power.
You can also select 2WD or 4WD via a switch on the dash, with the ability to lock the front differential for increased traction.
| | |
| --- | --- |
| Drive System | Selectable 2WD/4WD w/ locking front differential |
| Transmission Type | CVTech Automatic w/ High and Low gears |
| Gear Shift Pattern | L-H-N-R-P |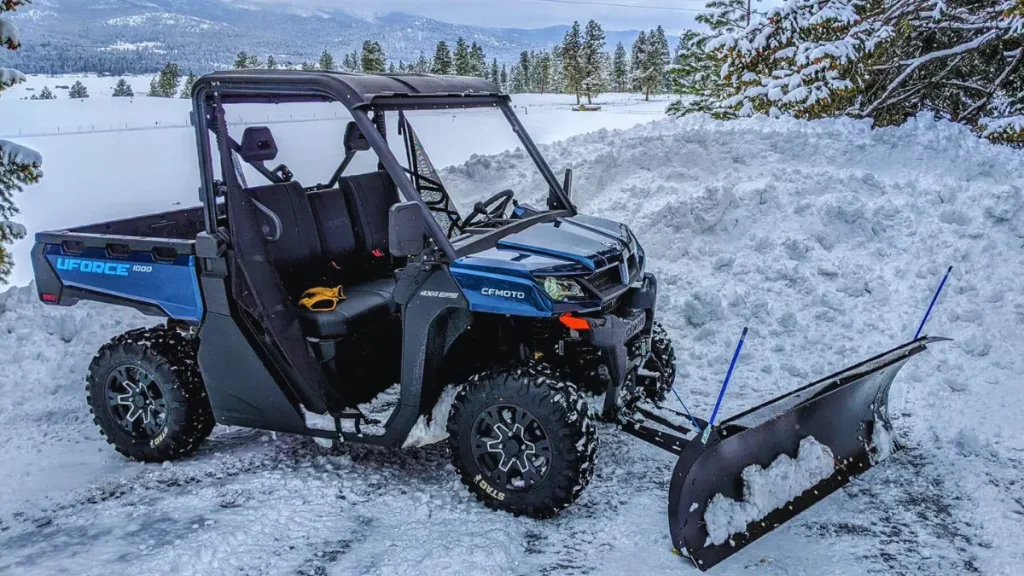 Suspension
The UForce 1000 features gull wing Double A-Arms independent suspension up front with preload adjustable gas shocks. The gull wing arms in front are both arched, giving the UTV better ground clearance.
The rear suspension features independent Double A-Arms and preload adjustable shocks as well. It offers 9.1 inches of wheel travel in both the front and rear.
The coil spring shock absorbers in both the front and rear offer multiple different preload settings so riders can find the perfect fit when it comes to how firm or soft the ride is.
This model offers 11 inches of ground clearance, with the preload settings on the shocks offering slightly more clearance when adjusted.
The ground clearance is standard for the 1000cc class, and offers plenty of room for clearing smaller rocks, logs, and ruts while out trail riding.
As CFMoto's biggest utility vehicle the turning radius is nothing to write home about, making it a little tough to turn around on some trails.
A locking front differential would be beneficial, as it tends to leave tire marks on the driveway or tear up the lawn if you aren't careful when turning.
| | |
| --- | --- |
| Frame Type | Steel Tube |
| Turning Radius | 26.9 ft. |
| Wheelbase | 80.7 inches |
| Ground Clearance | 11 inches |
| Front Suspension | Gull Wing Double A-Arms w/ Preload Adjustable Gas Shocks |
| Rear Suspension | Double A-Arms, Preload Adjustable Gas Shocks |
| Wheel Travel | Front & Rear – 9.1 inches |
Tires & Brakes
The UForce 1000 comes equipped with 27-inch tires and 14-inch rims in the front and rear. They're nothing special, but do perform well and offer good traction in most terrains.
There are hydraulic disc brakes in front and dual hydraulic disc brakes in the rear where each side has its own caliper, making for plenty of stopping power.
The parking brake is hand activated via the left side of the dash.
One thing to note with the parking brake is that even when it is activated, you can still drive away.
Doing so will smoke your brakes, so it's important to be sure that the parking brake is deactivated before you drive off from a parked position.
| | |
| --- | --- |
| Front Tires | 27 x 9-14 |
| Rear Tires | 27 x 11-14 |
| Wheels | Cast Aluminum |
| Front Brake Type | Hydraulic Disc |
| Rear Brake Type | Hydraulic Disc |
Dimensions & Capacities
As CFMoto's biggest utility vehicle offering, the UForce 1000 is pretty hefty at 1,521 lbs.
But it does feature power steering, and is incredibly easy to handle for a big rig. The steering wheel takes hardly any effort to turn, with finger steering done easily.
Made to be a working rig, the UForce offers an impressive 2,000 lb towing capacity. It has plenty of power to pull a trailer with a load or bigger logs.
It features a good-sized rear cargo bed that can fit up to 771 lbs of cargo and makes light work of hauling loads of firewood, gravel, or bricks around your property when needed.
| | |
| --- | --- |
| Length | 116 in |
| Width | 63.6 in |
| Height | 72.8 in |
| Dry Weight | 1,521 lbs |
| Load Capacity | 1,508 lbs |
| Cargo Bed Capacity | 771 lbs |
| Towing Capacity | 2,000 lbs |
Exterior & Interior Features
CFMoto's line of UForces really stand out in that they offer quite a number of accessories that are usually considered extras with bigger-name models, as you can see in this comparison of the UForce 1000 vs Can Am Defender.
And the UForce 1000 is flush with these accessories that all come standard.
Front
Up front, this model features a front receiver hitch for something like a front-mount plow system to attach. It is removable for those who don't need it.
There's also a 3,500 lb. synthetic rope winch mounted up front, that comes with a wired winch controller that connects under the front dash in the cab.
High and low beam LED headlights make night riding easy.
Cab Area
The cab area is covered by a hard-top plastic roof.
Inside the cab, there are three seats with three seat belts. When only riding with two passengers, there's a center console that folds down from the middle seat's backrest and offers a compartment and cup holders.
The driver's seat is adjustable with the ability to slide forward to account for drivers with short or longer legs, which is a big plus over many other models that lack this feature.
The tilt-up steering wheel is also adjustable to suit the driver's desired stance.
This model offers what feels like endless storage space, with a removable storage bin with lid that fits in a storage space under the passenger seat and a smaller storage bin under the driver's seat.
There are also multiple under-dash and on-dash storage cubbies, along with a good-sized glovebox.
Just outside of the cab, the UForce 1000 is equipped with a high quality, tall adjustable side mirror on either side.
The parking brake lever is located on the left side of the dash, with the right-hand operated gear shift located in the center dash just to the right of the steering wheel.
The dash also features switches for 2WD/4WD, the high/low beam headlights, running lights, and Normal/Work mode.
A digital display sits on the dash behind the steering wheel and displays your speedometer, odometer, fuel gauge, gear light indicator, and mode setting.
Rear
In back, there's a sizable cargo bed that tilts up via gas assisted shock. This cargo bed features a central single-latch tailgate and has running tie down pockets and holes.
There is a dumping lever on each side of the bed, with the need to pull only one of them to raise the cargo bed and dump it.
There's a standard two-inch hitch receiver for a trailer.
And rear running/tail lights round out the rear. These lights also feature Reverse lights, which are plenty bright to illuminate behind you if you're backing up in the dark.
Top Speed of UForce 1000
While the UForce 1000 is made for work as a utility vehicle, it still has plenty to offer from a recreational standpoint when it comes to speed.
With its powerful engine, in stock form the UForce 1000 can hit a top speed of around 65 mph, making it one of the fastest utility side-by-sides in the industry.
That said, the speedometer may trick you into thinking you're going faster than you are and show speeds of around 75 mph.
This is due to a common flaw with the tire circumference setting in these models from the factory.
In order to see the proper speed displayed on your speedometer, and to have the proper mileage tracked on your odometer, you'll want to ensure the tire circumference is properly set and calibrate your speedometer if not.
Owners' Main Likes & Dislikes
The overwhelming majority of UForce 1000 owners tend to be happy with their vehicle and agree that this model is quite the value.
That said, even happy owners will be quick to point out some flaws with this model as well.
Here are the UForce 1000's main pros and cons:
What UForce 1000 Owners Like:
One of the best performance to price values in the UTV industry.
CFMoto has heard the concerns about poor throttle response and the resulting jerky ride and made major improvements in the 2023 model.
Power steering makes it very easy to handle, with riders able to finger steer when desired.
The A-Arms that make up the suspension system have grease fittings to help make the ride silent, which many other models don't offer these days.
Full front and rear fenders serve as mud guards on the underside of the vehicle, leaving barely any nooks and crannies for mud to work its way into and preventing the wheels from slinging much dirt and mud into the engine area.
Comes standard with a number of accessories considered as extras with other 1000cc UTVs.
What UForce 1000 Owners Dislike:
Many 2022 and earlier models suffer from poor throttle response and a jerky ride, leading to owners needing to tune their ECU and upgrade the clutch system to alleviate them.
The shift linkage has a tendency to shift to an incorrect position over time, making it tough to shift between gears.
The tire circumference setting is set too large in some units, leading to an inaccurate speedometer and more mileage on the odometer than there should be.
Brakes tend to be stiff out of the box and take some working in.
Tailgate doesn't come off as strong enough to stand on when loading the cargo bed.
Lack of an unlocking rear differential can lead to tire marks on driveways and torn up grass when turning sharply.
CFMoto UForce 1000 Cost For 2023
The CFMoto UForce 1000 MSRP (manufacturer suggested retail price) for 2023 is $12,999 for the blue and black options. The camo option is $13,449.
The table below shows a comparison in price between the UForce and some of its biggest name competitors in the 1000cc class of utility vehicles.
You'll find two CFMoto models, including the UForce 1000, high atop the list of best cheap side-by-sides for this year.
| | |
| --- | --- |
| CFMoto UForce 1000 | $12,999 |
| Can Am Defender HD9 | $14,799 |
| Kawasaki Mule Pro FXT | $15,099 |
| Honda Pioneer 1000 | $17,499 |
| Polaris Ranger 1000 | $17,899 |
Conclusion
With power, speed, and overall performance similar to that of some of the biggest names in the industry, and at a much lower price, the CFMoto UForce 1000 is one of the best values you'll find on the UTV market in 2023.
For more on CFMoto, check out the following guides before you go: