The line of CFMoto UForce utility vehicles are becoming more and more popular, with a couple different models ranked among the best UTVs for the money these days.
Though they may carry the "made in China" stigma, consumers are catching on to the fact that the performance these models provide isn't far off from bigger name competitors.
Throw in the fact that they're much more reasonably priced than similar models like the Polaris Ranger, Kawasaki Mule, and Can Am Defender, and these UForces represent some real value.
The newest CFMoto model is the UForce 600, which splashed onto the scene just recently in 2022 and makes for one of the best cheap side-by-side options for 2024.
This guide will offer a detailed CFMoto UForce 600 review including the following:
Specs
Key Features
Performance
Top Speed
Pros & Cons
Common Issues
Price
After reading this review of the UForce 600, you can get a feel for CFMoto's overall quality in these 18 most helpful owner reviews.
Specs, Performance & Key Features
The high level of quality and performance provided by the UForce 600 is one of the main reasons the UForce 800 was phased out for 2023.
Engine
The UForce 600 is powered by a 580 cc single-cylinder engine with a maximum power output of 40 horsepower.
Oozing with low-end torque, this model and its engine compete with the very best options in the class when it comes to power.
It has the grunt to power through any terrain and up the steepest of hills, even while hauling a heavy load in the cargo bed or behind it.
One complaint with the engine is that it produces some pretty serious noise, making it pretty loud in the cab area.
The engine is also prone to some engine vibration at the highest RPMs.
A big plus with the location of the engine is that it's directly below the cargo bed and easy to access for maintenance or repairs when needed.
| | |
| --- | --- |
| Engine Type | Four-Stroke SOHC |
| Cylinder Arrangement | Single Cylinder |
| Displacement | 580 CC |
| Torque (ft-lb.) | 36 lb-ft (5,250 RPM) |
| Horsepower | 40 HP (6,250 RPM) |
| Bore x Stroke Ratio | 91 x 89.2 mm |
| Compression Ratio | 10.68:1 |
| Fuel System | Electronic Fuel Injected (Bosch EFI) |
| Engine Cooling | Liquid Cooling |
| Fuel Capacity | 9.25 Gallons |
| Engine Oil | SAE 5W-40, SAE 10W-40, SAE 15W-40 |
| Battery | 12V 30Ah |
| Spark Plug | DCPR8E (NGK) |
Drivetrain
The engine of the UForce 600 is mated to an automatic CVTech transmission, with drive shafts supplying power to the front and rear wheels.
This model offers Neutral, Reverse, and Park settings along with both High and Low gears.
It also features two different drive modes in Eco and Sport mode.
Sport mode offers better throttle response, with the engine feeling and sounding more aggressive as it can reach full performance in this mode.
Eco mode tones down the speed and acceleration and is meant for driving more casually.
And unlike in the UForce 1000, the UForce 600 offers full front locking differential which gives it true 4×4 power and makes it quite off-road capable.
Riders can also choose between 2WD and 4WD via a switch on the dash.
| | |
| --- | --- |
| Chassis Frame | Steel Tube |
| Drive System | 2WD/4WD w/ locking front differential |
| Transmission Type | Automatic CVT |
| Gearshift | L-H-N-R-P |
Tires & Brakes
The UForce 600 is equipped with 25-inch diameter tires and 12-inch rims in the front and rear.
If you plan to ride some pretty serious off-road trails with steep, soft terrain, you may want to consider upgrading to something with a bit more traction.
There are hydraulic disc brakes in the front and rear, which provide plenty of stopping power for this machine in all conditions.
Between the tires, brakes, and the suspension system we'll cover below, it's very easy for riders to actually feel what's happening while driving this machine relative to the terrain or surface you're traversing.
| | |
| --- | --- |
| Front Tires | 25 x 8-12 |
| Rear Tires | 25 x 10-12 |
| Wheels | 12-inch Aluminum Alloy |
| Front Brake Type | Dual Hydraulic Disc |
| Rear Brake Type | Dual Hydraulic Disc |
Suspension
The UForce 600 offers front and rear independent suspension, enabling each wheel to move and react independently to holes, chop, and other obstacles.
There are double A-Arms with preload oil-dampened shocks in both the front and rear, which help to absorb impacts from uneven terrain and provide a smooth and comfortable ride.
The double A-Arms are arched, making for more ground clearance between the wheels.
While 10.6 inches of ground clearance isn't all that impressive, it offers plenty of room to clear obstacles in the trail.
This suspension style makes the UForce more adapted for rough terrain and lends to its off-road ability.
The turning radius is about average for a mid-size UTV, and the front locking differential helps to ensure you don't leave tire marks on the driveway or tear up the grass when turning.
| | |
| --- | --- |
| Turning Radius | 15.7 feet |
| Wheelbase | 76.3 inches |
| Ground Clearance | 10.6 inches |
| Front Suspension | Independent Double A-Arm w/ preload oil-damped shocks |
| Rear Suspension | Independent Double A-Arm w/ preload oil-damped shocks |
Dimensions and Capacities
The UForce 600 is a worker, and its size and capacities are what you'd expect from a working rig.
As a worker, it's a bit heftier than some of its competition in the 600cc class.
But even at a weight of 1,481 lbs, it's still easy to handle thanks to the excellent electronic power steering it comes equipped with.
And its size finds a good balance between maneuverability and stability, with this model able to navigate narrow trails without sacrificing stability when turning.
With a class leading towing capacity of 2,000 lbs, this mighty UForce can haul just about anything including trailers full of gravel, logs, or small boats.
A good-sized rear dump bed can also handle up to 600 lbs of cargo, with the vehicle plenty powerful to haul it across rough terrain.
| | |
| --- | --- |
| Length | 110.5 inches |
| Width | 57.25 inches |
| Height | 75.5 inches |
| Dry Weight | 1,481 lbs |
| Load Weight Capacity | 1,065 lbs |
| Towing Capacity | 2,000 lbs |
| Cargo Bed Capacity | 600 lbs |
Interior & Exterior Features
The UForce 600 stands out from many in its class as it comes standard with multiple accessories that are only considered add-ons or included on speciality models with some of its bigger name competitors.
It is offered in three different colors – blue, green, and gray.
Up Front
Up front, you'll notice that this model features a 3,500 lb winch that comes with a wired remote control and can be operated from inside or outside the vehicle.
It also offers a steel front bash plate for protection, and Ridevision LED headlights with daytime running lights.
The Cab
The cab is covered by a plastic roof. It can be further enclosed with the use of the included side nets, which serve as doors and are one of the few drawbacks with this model.
Inside the cab is a 2-person bench seat, with enough room to squeeze in a third rider in the middle if need be. There are only two seatbelts, however.
The driver's seat is adjustable and can be slid forward to give those with shorter legs a more ideal driving position. Many other models in this class lack this feature.
The steering wheel is also adjustable and tilts up.
There is plenty of storage space in the cab area, with a number of under-dash and on-dash storage compartments and underseat storage compartments that are pretty well shielded from the elements.
Two tall, adjustable side mirrors are also installed on either side.
On the dash there are switches for 2WD/4WD, the headlights and running lights, and Sport/Eco mode.
An LCD display is built into the dash behind the steering wheel and displays your fuel gauge, speedometer, odometer, mode setting, and gear lights.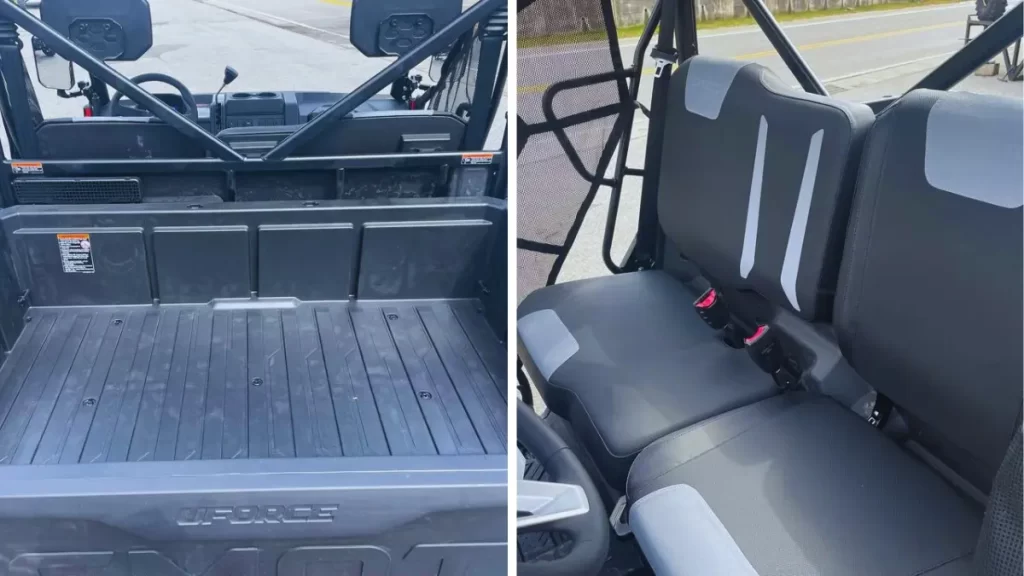 Out Back
There's a big cargo bed in the rear that tilts up with the help of a gas assisted shock, making dumping cargo that much easier.
The tailgate unlocks via double latches on either side, which is more of a nuisance than a centrally located single latch if you're picky.
Rear tail lights that also serve as brake lights, and a two-inch standard hitch receiver round out this vehicle's rear end.
How Fast Does A UForce 600 Go?
Though the UForce 600 is a working rig, it can still offer a thrill to riders who want to let loose recreationally now and again.
And not just from a trail riding perspective. The UForce 600 and its powerful engine do boast pretty impressive speed.
In stock form, the UForce 600 tops out at just over 50 mph depending upon the terrain and load weight.
But don't let the speedometer trick you. A known flaw with a number of UForce UTVs, including this model, is with the tire circumference setting that's programmed in initially.
You'll want to ensure that this setting matches up with the size of the tires you have on your vehicle, as many times the setting is not correct initially.
This leads to the speedometer displaying wrong and can lead to other issues with your machine displaying more mileage than it actually should.
If yours is off, you'll need to calibrate the speedometer using the LCD display.
Pros & Cons
If you survey UForce 600 owners, you'll find that most of them are extremely happy with the purchase of their vehicle and the value they're getting for a reasonable price.
But even owners who are content with their vehicle will offer some negative feedback about some perceived flaws with this model.
The following are the pros and cons of the UForce 600:
Pros
This model is one of the best overall values in the UTV industry and the 600 class.
The clutch system in 2023 models has been upgraded so that the jerky ride and poor throttle response experienced in some older models is less common.
Electronic power steering makes this model very easy to handle and gives riders the ability to finger steer when they want to.
Comes standard with plenty of accessories that make it both trail and road ready, and that aren't often included in some bigger name models.
Excellent power and low-end grunt gives this model the best towing capacity in its class.
This model is quite versatile, with the ability to handle the toughest work tasks while also making a great off-road riding option.
Cons
The engine is loud and prone to vibrations at higher RPM levels.
The bench seating offers enough room for a third rider in the middle but only two seatbelts.
The double latch fastening system on the tailgate is not as easy to use or stylish as a single latch.
The side net doors don't look as good or provide as much protection as half plastic doors would.
The gear shift tends to stick and be a little tough to shift, especially before being broken in.
The cab area is prone to excessive heat, which can be uncomfortable on warmer days.
For more on these drawbacks and how to overcome them, check out this guide to proven fixes for the common UForce 600 problems.
UForce 600 Cost
The UForce 600 retails for $10,499 in 2023, per the manufacturer suggested retail price from CFMoto.
As they only date back to 2022, you won't find much of a discount on used models.
But the good news is that the UForce 600 is one of the most reasonably priced 600cc UTVs you'll find these days.
Final Thoughts
While the UForce 600 doesn't carry the familiar name of some of its bigger competitors, it holds its own with all of them performance-wise.
And it's much more reasonably priced than many of them, making it one of the better values in the industry.
For more on CFMoto, have a look at these guides before you hit the road: